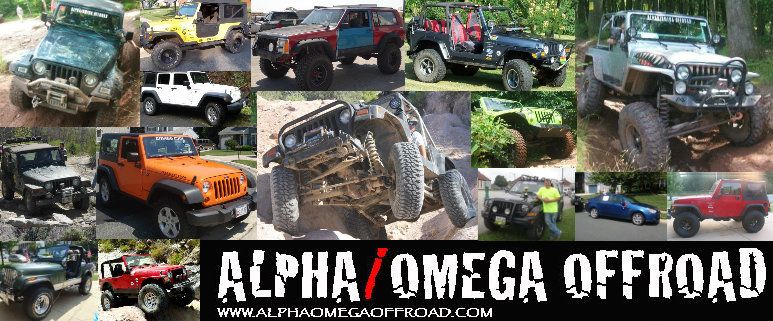 Alpha

/

O

mega 

Offroad

 
is a Christian based 4x4 off road club devoted 

to the education and preservation 

of 

our 

land use 

as well as 

spreading

 

the word of our LORD, JESUS CHRIST. 

We are reaching out to you to join us in spreading the good word and offering a helping hand for those in need. After all, serving GOD can be fun in many ways! 
Alpha

/

Omega Offroad, while a non-denominational Christian Club, 

welcomes

 

everyone

...

Christian and Non-Christian alike...to join us on the trails.

J

oin us on learning the ropes of off-roading, from simple wooded trails to rock crawling. 



Become an advocate of the enviroment and help keep our trails clean so that others can 

     benefit from its beauty and pleasure.                        
Family, unity and fellowship are what we're all about!
CLICK TO READ OUR MISSION STATEMENT


The trail rides are guided and typically range from easy "stocker" trails to advanced "modified" trails. We'll run the whole weekend with camping and/or hotel stays on saturday night (some people will get there friday night to be ready for an early start!) After a day on the trails, we'll settle in for dinner and then have a bible study/prayer service in the evening. We also have road trips that do not require a 4wd vehicle, but DO require family, fun and fellowship!!!! These are some of our best outings!

We hope you will be joining us in community events ranging from car shows to trail clean-ups and many charity events to helping out in soup kitchens. Yes, we like to wheel our trucks out in the woods, but we also want to be out where we are needed. We are based out of South Eastern PA and Northern MD...and now have a WEST COAST Chapter starting up in Arizona!!! We accept people from ALL over the country!!!



For more information, please contact us at:
XJXtian@alphaomegaoffroad.com or JeeperX@alphaomegaoffroad.com
ALPHA/OMEGA OFFROAD 
NOW HAS A WEST COAST CHAPTER!!!
Come in and join us in the forum, whether you're in 
Maryland or Arizona or anywhere in between!!!



Stop by the forum and sign up to be a member.















BEST PLACE FOR PARTS & ACCESSORIES:
SPONSORS and FRIENDS:
For More Info: 443-619-0446
info@trailandstreetcustoms.com
RAUSCH CREEK OFFROAD PARK
Thompson Chrysler Jeep Dodge

1102 Business Center Way

Edgewood

,

MD

21040

SALES: (877) 354-4022    

SERVICE:

 

(410) 679-1400